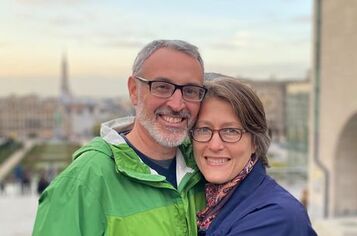 Since 2008, Rev. Stephen Hawley has been the Lead Pastor of Faith Assembly of God in Hyannis. He has a heart for seeing the love of God manifested in true relationships and helping people become true followers of Christ.
Pastor Steve attended Shiloah School of Ministry, where he earned a Bachelor of Theology. In 2004 he received his License to Preach with the Southern New England District of the Assemblies of God, and was ordained by the Assemblies of God in 2011.
​Pastor Steve lives in Centerville, MA with his wife, Lauri, sons Jeremiah and Isaiah, and Lauri's father. Their daughter and son-in-law, Christina and Noah O'Connor, serve in the ministry in Bristol, Connecticut.
Pastor Steve loves backpacking, playing on the church softball team, fishing, gardening, watching movies, and hanging out with friends and family.
Fun(ish) Facts: Pastor Steve has climbed 40 of the 4,000+ foot high mountains in New Hampshire, his favorite movies of all time are any of the Rocky series, and he HATES nuts in his brownies!